.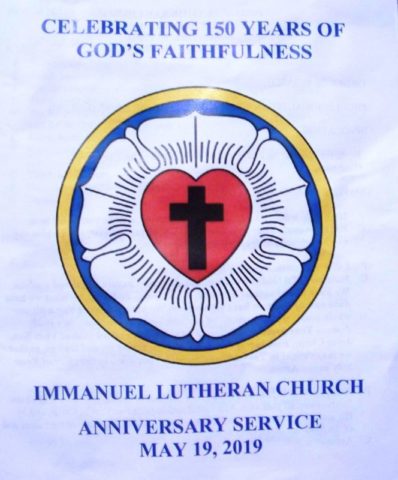 (No service was held at St. Stephen's)    
..
To listen to the Sermon or the entire  Service, click on Home,
then under Resources, click on Sermons. 
Past services are listed below the most recent.
.. 
Worship Leaders: Rev. Paul Robinson
Rev. Kurt Ziemann, Rev. Kyle Kuehl, and Rev. Brian Krueger 
Organist, Ben Culli
:Service:       
Celebrating 150 Years of God's Faithfulness at Immanuel Lutheran Church Town Scott 
May 19, 2019
10:30 A.M. 
     Processional Hymn  "Praise to the Lord, the Almighty (LSB, p.790)
Psalm 103
 Hymn of Praise "This is the Feast (LSB, p.155)
Choir Anthem "I Was Glad" By Kenneth Kosche
Hymn of the Day"As Stone on Living Stone is Set"
Sermon "Forward By Faith" Rev. Paul Robinson
Sermon Response "Built on the Rock the Church Shall Stand" (LSB, p. 645)
Closing Hymn "Christ Is Our Cornerstone"(LSB, p. 912
..
Readings for Today 
First Reading – Isaiah 51:1-6
Epistle – Revelation Ephesians 2:17-22
Gospel – Matthew 16:13-18