Jesus said, "If anyone wants to be first,
he must be the very last,

and the servant of all"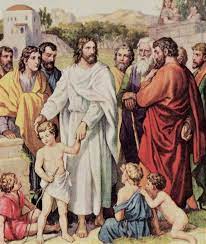 To listen to all or just part of the service
from the home screen click on resources then sermons for this weeks service
scroll down for past services.
The sermon for today starts at 25 min. 13 sec.
Rev. Brian Krueger, pastor
Organist, Shannon Krueger

:Service:
The Seventeenth Sunday after Pentecost
SEPTEMBER 19, 2021
10:30 A.M.
Hymns From The Lutheran Service Book
Opening Hymn – 605

Divine Service – Page 203

Psalm 54

 Sermon Hymn – 851
Communion Hymns – 637 and 611 

Closing Hymn – 730

..
Readings for The Seventeenth Sunday after Pentecost 
First Reading – Jeremiah 11:18-20

Epistle – James 3:13—4:10

 Gospel – Mark 9:30-37